Have a question?
About this item: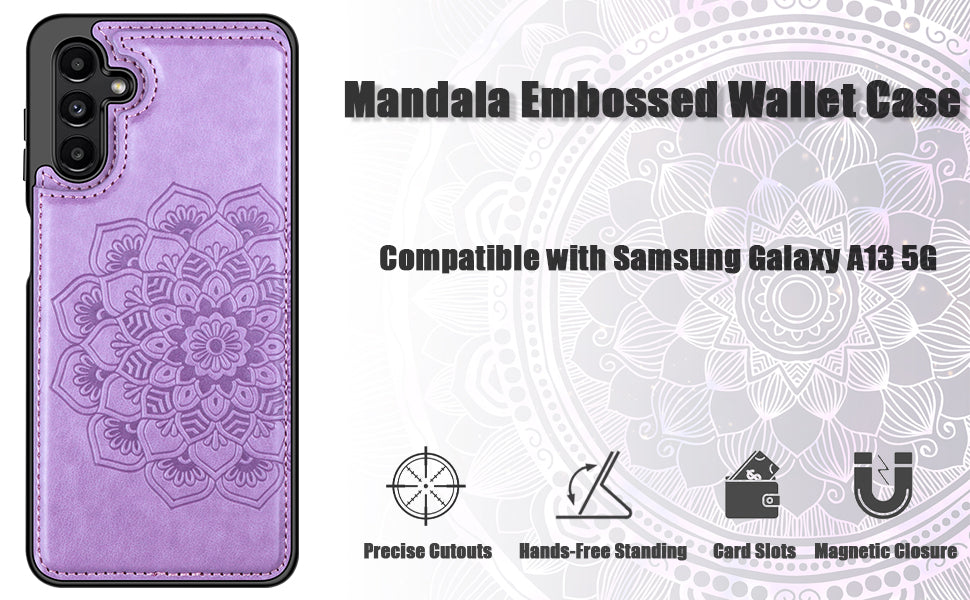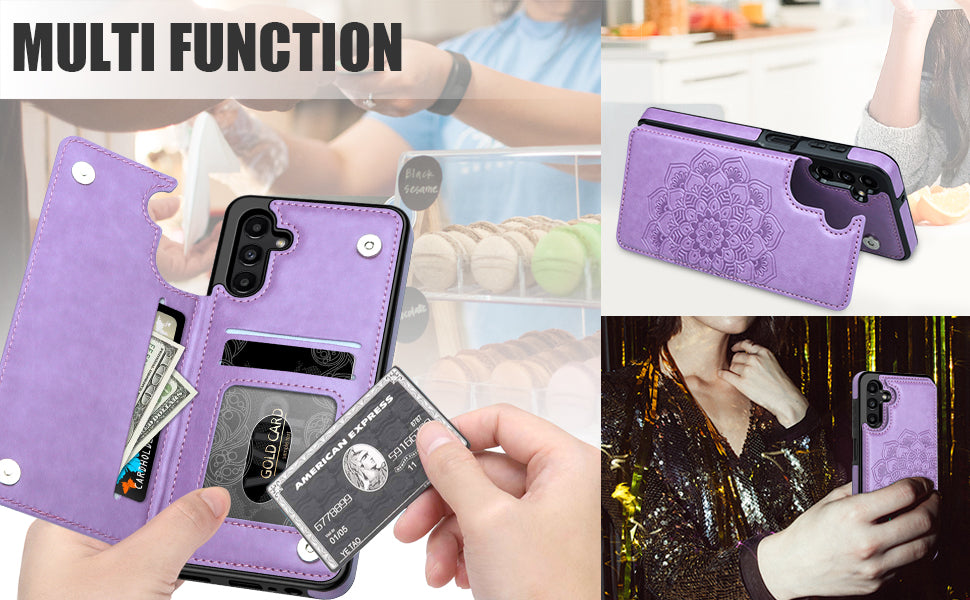 【Compatibility】 Compatible with Samsung Galaxy A13 5G  (Please pay attention to your mobile phone model and size)
【Premium Material】 Made of high-quality durable Faux

PU leather

and soft

TPU inner shell

, elegant and comfortable touch, beautiful phone case cover well protect your phone against any shocks, drops, scratches or damages.
【Practical Card holder】 This

3 card slot's

holer pocket could take your ID card, credit cards, or some cash, without taking your purse outdoor.

Life can be much easier with this versatile wallet phone case.

【Secure Magnetic Closure】 A highly efficient good

strong magnetic snap

 that opens and closes securely provides a secure and reliable lock to keep your case firmly closed. Provides perfect

Full-body protection

to your phone against shocks, damages, dust, and scratches when your phone falls accidentally.
【Precise Cutouts】 Accurate and considerate cutouts allow freely getting access to all the functions of your phone, simple and convenient. The tactile buttons covers bring you a great responsive touch experience. You can clearly feel every click!
Great case
I love this case, it fits in my pocket just right. My other case was way to bulky, only down fall is it doesn't hold alot of cash, inside pockets are real tight and can't get much in them. My other case was more a wallet with a phone holder, this one is a phone case with a card holder on the back. Very good quality and very pretty.
Casekis Mandala Embossed Phone Case Purple for Galaxy A13 5G
Do you have this for Samsung s22

Yes, please find it by this link: https://casekis.com/collections/galaxy-s22/products/casekis-mandala-embossed-phone-case-for-galaxy-s22-5g-purple

How do I find this case for IPhone XR ?

Please find it by this link: https://casekis.com/collections/iphone-xr/products/casekis-mandala-embossed-phone-case-purple?variant=43162962723067

Do you have magnetic case with over the shoulder for galexy a13 5g

Casekis Crossbody Strap Leather Magnetic Wallet Phone Case
Casekis Crossbody Wallet Leather Phone Case

Does this have a wrist strap?

This case does not have a wrist strap.

I already ordered this when will it arrive

10-15 days

When will my case be here

2023-03-06 09:06:00Shipping Label Created, USPS Awaiting Item, A shipping label has been prepared for your item at 9:06 am on March 6, 2023.

For any chance do they make a red color?

Sorry, this case is not available in red.

Can you take pictures without having to take phone out of case?

Yes, our mobile phone case leaks the camera part, which is convenient for users to take pictures.

How long does it take to get the case

Usually it takes 10-15 days to be delivered.

Please tell me if my purple galaxy a 13

I saw your order, you ordered Mandala Embossed Phone Case Purple for Galaxy A13 5G.

I Oder a purple galaxy a 13 phone case and I have not received it yet can you tell me if it is on it's way

It usually takes 10-15 days to arrive, and we are packing and preparing to ship.

Does these come with a strap to were on your wrist

This phone case does not have a wrist strap, you can look at casekis other phone cases.

Do have any other colors or styles for galaxy a13 phone

Do they have the block in there so your credit card info can't be scanned?

This case does not have RFID functionality. You can search for "RFID" in casekis to find related mobile phone cases.

Will this fit Android

What is your phone model please? We can recommend phone cases for you.

Does it fit the Samsung A13?

This phone case only supports Galaxy A13 5G, not Galaxy A13 4G

Will this case fit the regular Samsung phone?

You can tell us your phone model. I'll help you find the right case for your phone.
Query method: Setting>>About Phone>>Phone Model :