Have a question?
About this item:
Please check the model of your phone before making a purchase.

Practical Cardholder: Card slots for ID cards, credit cards, or some cash, without taking a purse outdoor.
Premium PU Leather: Use High-quality durable material for the service life, soft PU material brings a very comfortable touch and feel.
Convenient Stand Feature: The Stand can be converted into a multi-angle comfortable view for reading, watching videos, or facetime.
All-Round Protection: A full-scale covering design to upgrade Anti-fall protective system.
Precise cutouts: Precise cutouts for speakers, charging ports, audio ports, and buttons for your convenience.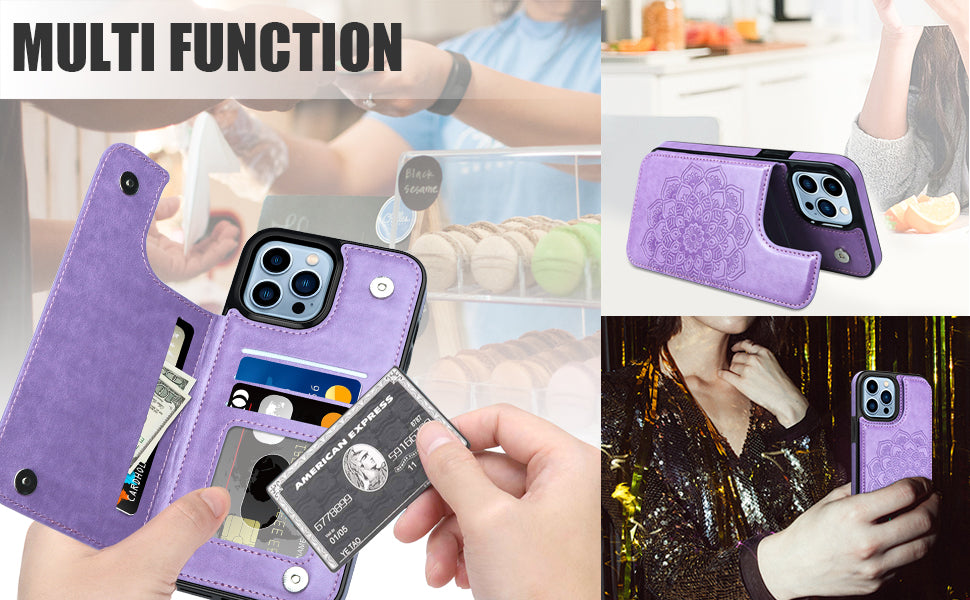 Great Purchase
I am very happy with this case and the customer service. Thank you!
Casekis Mandala Embossed Phone Case Purple
Great service and understanding staff!
I ordered the incorrect phone case and was sent the correct one while just paying the shipping. I absolutely love this product. It has saved my life! The staff was so helpful with emails that were sent in a very timely manner. Thank you!
Cleo's Mom
Wish it would hold more credit cards.
Great phone cover
Perfect for credit card, license, and a bit of cash
Is this available for a GalaxyS23 Plus?

Compatible with Galaxy S23 Plus 5G, you can find it in the model list.

Do you have a case for a Galaxy A03s

I'm sorry, but this phone case does not support Galaxy A03s.

Do you offer cases for Google Pixels?

You can first determine your phone model, and then search for your phone model on Casekis.

We need a Motorola case. We can never find one

I'm sorry, but this phone case does not support Motorola.

Is there one available for Galaxy Z Fold 3 5G ?

Does it have a built in screen protector? Thank you!

How does phone attach to case?

The phone case is made of soft TPU material, and the phone is wrapped in it.

Is this case non slip?

It features a leather non-slip design, providing a good grip.

Do you have 6 S Plus I phone

This phone case is not compatible with iPhone 6s Plus.

Don't know what kind of phone I have

Android system (Samsung/Google/Moto/LG):
Setting >> About Phone >> Phone Model/Product Name
IOS system (Apple iPhone):
Setting >> General >> About >> Model Name

Is the a magnet for it to go on a magnetic stand?

This case does not support magnetic mounts.

My phone has the 3 cameras in a row up and down don't see a case that wont!!! Cover cameras

Due to the large number of mobile phone models, we only show the photos of the iPhone. You can find your mobile phone model to buy according to the page, and we will deliver the goods according to the model you choose.

What is the cost

21.99+ Postage 5.99=USD 27.99

Casekis Mandala Embossed Phone Case Purple for a Samsung A53 is not showing a correct camera configuration

That's true, we've only shown the iphone camera, but don't worry, we'll ship it according to the model you choose.

Is this RFID enabled?

This phone case does not support RFID.